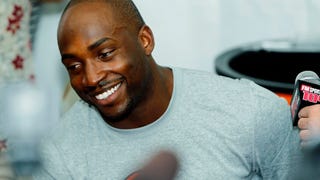 Yesterday, it appeared that Elvis Dumervil's failed contract negotiation with the Broncos was thwarted by a fax machine, a piece of technology rendered obsolete some 11 or 12 years ago by the advent of .pdf documents and email. It seemed like Dumervil was just another victim of the NFL's hard-assed resistance to…
Well, this is a mess. The Broncos were in talks with defensive end Elvis Dumervil to take a pay cut to stay with the team, and it came down to the wire. With the deadline at 4:00 EDT, the sides reached an agreement in principle at 3:25. Dumervil didn't fax the contract until 4:07. Dumervil is now a free agent.
Elvis Dumervil, Pro Bowl defensive end, has great short-burst speed despite weighing 260 pounds, which is five pounds heavier than the more famous Elvis at the time of his death. In case you were wondering (and in case you were a Spy reader back in the day), here is Elvis Dumervil's weight throughout our solar system:
The Broncos defensive end was arrested Saturday night in Miami. Police have not commented on what lead to Dumervil's arrest, but according to CBS Denver, the police report alleges aggravated assault with a firearm and bond was set at $7,500. According to Pro Football Talk, the allegations amount to a felony charge in…
Sure, the Patriots throttled the Broncos 41-23. But New England's victory didn't come at the expense of a little of Tom Brady's machismo, as the horrified look in his eyes upon this sack by Elvis Dumervil was more apropos for someone who wears Uggs. Which, I guess, means it's apropos—period.