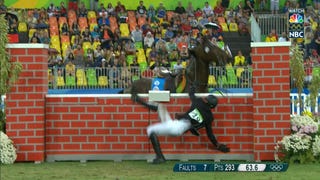 Yes, yes, BBC dressage announcers were very taken with Charlotte Dujardin's performance today atop Valegro, which is a horse and not a black market allergy medication. We are not sure if your announcers were wearing pants during this broadcast. It is possible that they were not, or perhaps wished that they were not.
Last week, I wrote a blog trashing the presence of horse sports at the Olympics. My point was that they should get these goddamn horses out of my face, because the Olympics are for humans. I watched a bunch of horse sports during the first weekend of the Olympics, and they were even more boring than I thought they…
The debate Wednesday could be compared to many things—a slow dance in which the partners are holding potato peelers to each other's throats, perhaps, or a restaurant in which you, the diner, get to watch a prep cook slow-spit on your burger before it's served—but of course everyone immediately turned to sports…
So despite reports of general good temperament (at least compared to Beijing) we had a few incidents with the equestrian horses provided for the modern pentathlon event. The first, of course, is our rodeo moment, but sometimes the horses decide to jump fences that aren't even part of the course, as this one did…
Mystery Whisper finished a disappointing 23rd during this morning's show jumping finals. (And I guess the guy on his back did too, but it's sort of screwed up that the horses don't even receive medals, so we're going to start ignoring the riders.) It might have been a case of the nerves, as the 12-year-old dropped a…
Hiroshi Hoketsu (who turns 71 on March 28) earned the spot by winning an international dressage meet in France earlier this week. It remains unclear whether he will actually compete in the games, but Japanese Equestrian officials not only exist but will also announce Hoketsu's participation status in the near future.
Olympic speed-skater Joey Cheek dumped billionaire heiress Georgina Bloomberg (NYC's mayor's daughter) while she was in the hospital recovering from a show-jumping accident. Concussion, fractured vertebra, broken heart. [NY Post]