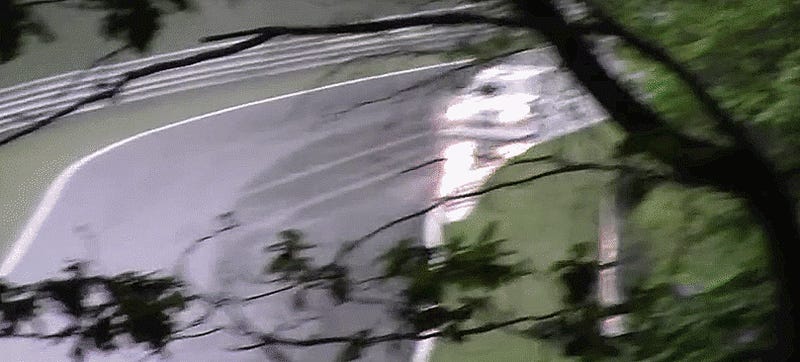 It's truly the most wonderful time of the year. Of course, I'm not talking about Christmas — it's not even Thanksgiving yet. I'm talking about something way better. It's the gift that keeps on giving. That's right: it's time for everyone to release their annual compilations of Nürburgring crashes. Enjoy!
The deep and hearty snores you hear are from Chinese commentator Dong Lu during this week's Real Madrid-PSG Champions League match, and he's not taking a sly jab at the quality of play. Apparently, Dong really did fall asleep during the game, and his network fired him for it.

Reader "Norman Dale" is at tonight's embarrassment of a Big Ten championship game (70-24 Wisconsin last we looked) and if there's any metaphor for a B1G season sapped of the ineligible Ohio State and Penn State, it's this weak T-shirt cannon. Seriously, what is this? Manufacturing used to be a point of Midwestern…
The US women's water polo team took gold today, stomping out Spain 8-5. When the game ended, the team and coaching staff linked arms and took a ceremonious plunge into the pool. One of the coaches, who was already a little late to this party, jumped in after them, only to land crotch-first on the head of one of the…
So this is one of those Twitter things, without much backstory. (We saw it here first.) But the team in question is the Rayne (Louisiana) High Lady Wolves, the coach is Deserea Dunn, and the paper is, we think, the Rayne Independent. The Lady Wolves crashed out of the district playoffs last month, so coach has had…
Enaut Zubikarai, the goalkeeper for Real Sociedad, had a very terrible Tuesday evening. Playing in the Copa del Rey's round of 16, Zubikarai allowed Mallorca to score six goals in the first 60 minutes, and Real Sociedad lost, 6-1. This particular moment of utter failure was Mallorca's fourth goal in a six-minute…
Well, this is embarrassing. Grantland had two heartening Father's Day stories up yesterday. Alas, the fathers could not read them at Grantland.com. The site was down, replaced by a picture of a smiling girl and Prince Harry's neck. From the look of things, the domain name registry had lapsed and hadn't been renewed. A…
Sammy Bossut, goalkeeper for Zulte-Waregem in the Belgian Pro League, pulled down a corner kick in a match against Lokeren over the weekend and, channeling a certain Giants quarterback, held onto the ball a little too long in his attempt to throw it down-field. Zulte-Waregem lost 2-1.
Volleyball Spike Gone Painfully Awry is an underrated sports blooper, frequently ignored while its cousin Football To The Groin is heaped with praise. Thankfully, this kid is here to give us all some perspective. [Today's Big Thing]
Here's poor Zach Van Orsdel, an Alexandria defenseman playing in the Minnesota state championship, introducing himself to the television audience by doing the sort of thing that makes us all glad we're no longer in high school. [Puck Daddy]