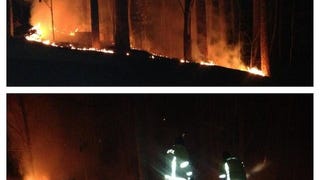 Last night, former Atlanta Braves third baseman and occasional fat person Chipper Jones sent out an ominous, yet fairly light-hearted tweet.
Chipper Jones joined the Braves on Saturday to spend a few days hanging around the team's spring training complex as a "special instructor," which is baseball-speak for "old guy who stands around leaning on a fungo bat and spitting seeds." So how's retirement been going for Chipper? Aside from the optical illusion,…
The debate continues: Fat Chipper earlier today tweeted the photo you see here (click to make it bigger), inviting us all to help him out. "What's wrong with this pic folks?" he asked. We've been looking at it all afternoon, and we're stumped. We can only surmise that he looks thinner because of his refraction through…
You will recall that a grown man who called himself "Chipper" used to play third base for the Atlanta Braves. You will recall, too, that he is fat and dates a Playboy model. He also has a Twitter feed. And an upcoming Super Bowl party. What a Super Bowl party it is.
That's the conclusion we're drawing from this photo, which was tweeted yesterday by Braves pitcher Pete Moylan. Either that, or Chipper just dresses like that for every Braves road trip. Has to be one or the other.
Chipper Jones might be fat. You know who is not fat? Red Sox reliever Bobby Jenks is not fat. The photo at right illustrated a Boston Globe story in January about Jenks's back surgery. He won't be ready in time for the first few games of spring training, but he will be newly svelte when he gets there. Now Chipper has…
A few readers have pointed us to the Twitter account of David O'Brien, who covers the Braves for the Atlanta Journal-Constitution. O'Brien disputes the notion that Chipper's being a heavy presence at spring training. Yesterday, O'Brien tweeted the above photo to make his case, saying it was taken just one day after …
Larry Wayne Jones is going to be 40 in April, and he's about to begin his 19th season with the Braves. Jones says 2012 won't be his last in baseball, but it will be the final year of his guaranteed contract, for which he's scheduled to be paid $14 million. Jones made the NL All-Star team last year, and his deal does…