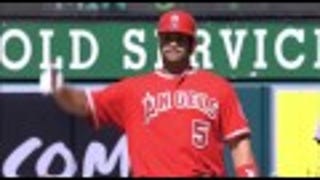 There's nothing more frustrating than an opposing closer being demonstrative about doing his job. Say, Fernando Rodney getting the third out, then miming pulling an arrow out of his quiver, nocking it, and firing. Infuriating, if it's against you. Yesterday, the Angels got the very best possible revenge.
The World Baseball Classic is underway, and while the quadrennial exhibition tournament of pre-authorized or discarded players has featured a few upsets (Italy beats Mexico! Holland beats Cuba!) there are, fortunately, a few things you can rely upon.
With runners on first and second with two outs, and the Rays up one in today's Patriots' Day morning start at Fenway, it came down to Fernando Rodney and Cody Ross. Rodney threw five straight balls outside, except three of them weren't strictly balls, since home plate ump Larry Vanover called them strikes.
Tiger's closer Fernando Rodney has been suspended 3 games for endangering a crowd with this mighty heave after closing a tight game in Tampa last week. Rodney claims the toss, which scattered a group of reporters, was not malicious. [MLB.com]