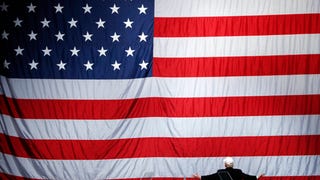 Blame white people. Blame white men in particular, but reserve plenty of blame for white women. Blame old people, too. Blame rich people, as always. Blame the public at large for Donald fucking Trump getting more votes than Donald Duck. Democracy enacts the will of the public; this is what the public wants.

A World Health Organization group has found that red meat and processed meats probably cause cancer. That basically implicates all the good stuff: ham, bacon, hot dogs, and delicious, delicious hamburgers. Your cookouts are about to get really sad.
I swear a lot. In writing, if not so much in speech (but, fuck it, also a lot of times in speech). Swearing is awesome, because it adds a little extra punch to your sentence that lets people know you mean business! Or, at least, I guess that's how most people characterize the function of swearing. Personally, I don't…
The Oklahoma City Thunder announced today that Russell Westbrook tore his meniscus in the second quarter of Game 2 against Houston on Wednesday and is out indefinitely. There's no timetable for his return yet, which potentially leaves the West wide open and sets up the Heat for an easy run to the title. But let's not…
U.S. skier Lindsey Vonn tore the ACL and MCL in her right knee in a brutal crash at the World Championships in Austria last week. Here's how it looks today.
Twitter reports that the Super Bowl generated 24 million tweets last night. Most of them were terrible, so I just looked at the ones that said "fuck."
Apologies for taking the Lord's name in vain in the headline, readers, but this is some serious backchannel craziness the Eagles just pulled off. With all the possible destinations for Michael Vick, even in the strictly hypothetical, UFL sense....
Like many Deadspin readers, I'm a regular listener of Drew's Deadcast podcast. But boy: That fellow sure does love to say the word "fuck."
Isn't it great when a player you always rooted for and admired joins your favorite team? Your love of sports is emboldened. This is not one of those instances. [KSK]