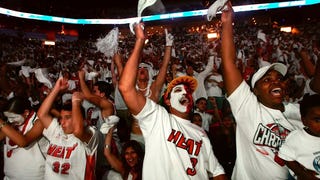 When the Miami Heat won its only LeBronless title, in 2006, I was living outside Fort Lauderdale. My building fees included basic cable, which was enough to get just about every Heat game and virtually nothing else worth watching. My girlfriend at the time could tolerate basketball well enough — better, in fact, than…
Every morning, the fine folks at Sports Radio Interviews sift through the a.m. drive-time chatter to bring you the best interviews with coaches, players, and personalities across the sports landscape. Today: Payton says he'll do all he can to bring a new team to Seattle.
Someone in Seattle is still having problems getting over the loss of the Sonics, and pouring her frustrations into creativity and self-mutilation. But here's the good news, guys: she's vulnerable and single! (We're assuming. Because of the giant Gary Payton tattoo and all.) [via IAmAGm]
It looks like we've got ourselves a showdown at the upcoming NBA All-Star Weekend. With Charles Barkley taking some time off from...various things, Gary Payton and Kenny Smith have graciously agreed to pick up the gauntlet of silliness, and will apparently face each other in a dance-off.

It has been four days since NBA commissioner David Stern announced that Las Vegas would host the 2007 NBA All-Star Game. And players haven't taken long to start marking their territory: