We aren't exactly clear what Cologne's Anthony Ujah was going for with this goal celebration involving club mascot Hennes the goat—is he miming riding it? are the horns like motorcycle handlebars?—but what we're quite certain of is ol' Hennes isn't digging it.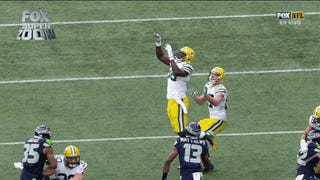 On the other side of the Seahawks' disbelieving delirium is, necessarily, a whole lot of Packers feeling individually shitty about something they did, or failed to do, any one of which might have been enough to ice this game for good. Settling for a pair of field goals from the 1-yard line comes to mind, as does…
So, Cubs fans are not what one would call "stable." This much we know because, you know, they're Cubs fans. But sending a goat's head to the owner? That's taking it to a whole new level.
Fearless, the life-sized stuffed goat who usually chills out atop his owner's car before Navy games, should not be confused with Bill XXXI, Navy's live goat mascot. But he is a regular fixture at Navy pregames, and he has been kidnapped.
Finally, you can put your photoshopping skills to rest — the comically cruel Brett Favre goat video has been released to the local news. Yes, the goat, although tied down, is still alive in these photos. [WCCO]
Got an image you'd like to see in here first thing in the morning? Send it to tips@deadspin.com. Subject: Morning crap.
Mechanics in Minnesota were slightly alarmed this weekend when a woman came in for a new fan belt and then announced that she had a live goat—that was also a effigy of Brett Favre—in her trunk.