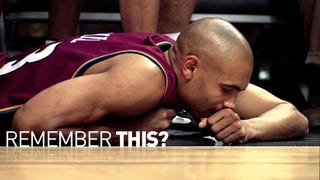 Thanks to Grant Hill, another interesting piece of Olympic basketball lore has risen to the surface. Yesterday, Hill went on the Dan Patrick Show, and talked about how nobody on the 1996 Olympic basketball team wanted to be the team's leading scorer, because that person would automatically have to submit to a drug…
To Hill, they're more vital than air and water. [ESPN.com, h/t Jimmy]
We do some Duke-hating around these parts. And maybe a hair too much of it, if you ask no one. I mean, hey, Duke lost to VCU in 2007 in the first round, before it was cool.
Last night's Raptors-Suns game featured this delightful sequence in which Reggie Evans fouled Grant Hill, which led to the two engaging in a spirited round of ironic ass-slappery. Both players were ejected. Via Skeets.
Chicago may be willing to hire the ultimate franchise-killer in order to lure LeBron James to their clutches, but they can't compete with the raw star power of New York's sort-of-recognizable personalities pleading on their behalf.
Calm and rational Rasheed Wallace has agreed to play for the Celtics for two years. Next on the shopping list: Grant Hill. (Seriously.) Because the problem with their 2009 team was obviously not enough injury/character questions. [Boston Herald]
Out of politeness more than anything else, I thought maybe I should take a second to acknowledge that the NBA did still exist and actually operated on the NFL's special day. Its importance, obviously, is miniscule when in comparison to the issue of which college superstars will lead last year's 3-13 NFL teams to 6-10…