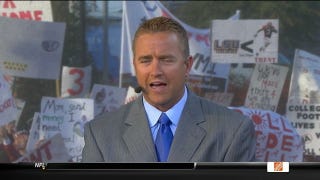 We've been monitoring Occupy Tebow all week, but the basic and most important element is that the statement features "Greater Than." Leave it up to Bama fans get it wrong.
At some point this evening, the ESPN comment moderators lost their minds and decided to attempt to deal with the Greater Than Tebow meme that's been raging on a Bill Williamson post for the past three days. But instead of simply disabling comments, the site has burdened some poor intern with the task of deleting…
The #occupytebow comment feed over on ESPN's now-regrettable post, "Time for Elway to think post-Tebow," is still going after three days. If anything, it's only gotten more spirited. You can watch in real time on the post, but we also went ahead and captured a bit of the glory for those of you who can't blow off the…
Go to the Tebow column's comments, and make sure you've got it set to "live." You can see the poor mods deleting every single "X > Tebow" comment in real time. They've worked their way back to yesterday, but still have a day and a half more to go.
The ESPN.com comment section is a den of iniquity and misspelling, and for the world's largest sports site, it's curiously inessential. The open registration means the discourse tends toward lowest common denominator, and it's too big to engender much sense of community. But once in a long while the disparate masses…