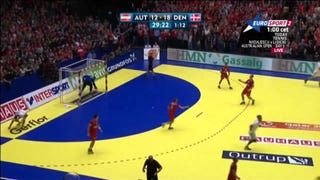 This is one of those moves Falcao Mikkel Hansen has probably practiced on the playground(?) courts for years before finally unleashing in game. I wonder what the goalie's thinking.
We won't even pretend to know much about handball, but does this happen often? Ivan Stuffer was getting ready for some kind of handball play (we know that much!) when his opponent got very close to him. Close enough to smooch him on the cheek. As you can see above, Stuffer does not react well to kisses from people…
Handball: it's not just a sport to watch on CNBC at 7:45 a.m. in early August every four years. Apparently there are leagues and teams, and those teams play important games, on which people bet money. Not very much, though, as Stefan Fatsis explains, on this week's excerpt from Slate's Hang Up and Listen podcast. When…
Handball's been a bit of a breakout sport for American audiences, though today's quarterfinal between reigning gold medalist France and Spain wasn't aired live in the U.S.. That's a shame, because it was a battle befitting the two pan-sport rivals, one finally seized by the Gauls when William Accambray's rebound…
TMZ had the exclusive this morning — former Heat forward Glen Rice is being sued by some folks who produced and filmed his team handball tournament in Miami in 2009.
A handball referee was arrested for exposing himself to cleaners in a Gothenburg, Sweden hotel. The handball referee was subsequently sent home from the World Championships by the International Handball Association. But the games must go on.
It's Sunday, and the following quarterbacks are starting for NFL teams this week: Kerry Collins, Cleo Lemon, Kyle Boller, and Brian Griese. With Timmy Chang probably a Tim Rattay elbow injury away from getting a phone call, some fans are probably amazed that they could use the services Jake Plummer right now. Well,…