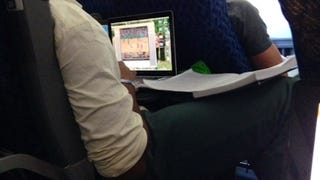 Update, Aug. 29: Hasheem Thabeet's publicist has reached out to say that couldn't be Thabeet in the photos below, as he didn't fly to Philadelphia in the timeframe in question (and doesn't own Beats headphone). Sorry folks. But still: don't recline your seat if there's a really tall person behind you, even if they…
Three days ago, Hasheem Thabeet and a few Oklahoma City Thunder teammates—including Kevin Durant, Russell Westbrook, and Serge Ibaka—hung out for some kind of outing. Thabeet posted a photo of the group on Instagram. That part isn't a story. Kendrick Perkins complaining about not being invited, however, is.
Obama in Tanzania: "We did not discuss Hasheem Thabeet, but maybe we will next time." cc: @scottcacciola
Every morning, the fine folks at Sports Radio Interviews sift through the a.m. drive-time chatter to bring you the best interviews with coaches, players, and personalities across the sports landscape. Today: Hibbert also talks his Parks and Recreation cameo.
The David Stern handshake is a newly drafted player's baptism into the NBA. It is also, often as not, hilariously awkward. We asked body language maven Patti Wood to analyze some of these moments from yesterday's Draft.
2. Memphis Grizzles Hasheem Thabeet, UConn It's just the second pick of the draft and David Stern's voice is already cracking. It's his Bar Mitzvah all over again! As for Thabeet, he looks tall and shiny.
The junior center will give up his final year at UConn—as if this image didn't already scream, "Your amateur athletics bore me." [SI]