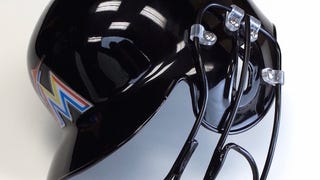 Marlins slugger Giancarlo Stanton took a fastball to the face last September. It was a scary moment, breaking multiple bones and teeth and ending his season, and Stanton wants to make sure it never happens again. He's going to wear this custom helmet and protective face guard, beginning today.
Some of these alternate helmet designs, created by artist and graphic designer Dylan Young, are cool as hell. Others, not so much. They're all really fun to look at, though, and isn't that what matters?
This design, featuring a representation of the "Hokie Stone" dolomitic limestone endemic to the Blacksburg campus, has been floating around for a couple of days. Today came confirmation: it's real.
When Arkansas running back Alex Collins was tackled after a seven-yard run, he tried getting up and discovered a whole lot of unexpected weight to pull up. That's because Ed Wilkins's helmet somehow latched on to his jersey and would not let go, connecting both players in a weird two-person horse costume sans horse…
The New York Times has a look at the various warning labels that exist on football helmets. You know, the little stickers you've never read? If you had, you'd have noticed one manufacturer's blunt instructions on how to safely use a football helmet: don't.