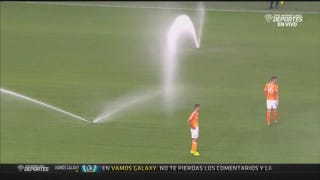 Last month this happened in Kansas City. Tonight it happened again in Houston. Get it together, MLS!
Houston Dynamo are riding a 20-game home unbeaten streak and host Toronto FC tonight looking for a win that could put them tied with New York Red Bulls for second place in the MLS East.
This here's Colin Clark, a midfielder for the Houston Dynamo. On Friday, Clark was frustrated with a ball boy for not giving him a new ball fast enough. Picked up by the onfield microphones, everyone watching the nationally televised game heard Clark call the ball boy a "fucking faggot." It immediately became a…
As noted earlier today on Dirty Tackle, Houston Dynamo winger Colin Clark is under fire for blowing up on a ball boy early in last night's match in Seattle. His apology (through Twitter) was of the typical "I didn't mean to disrespect anyone" variety and suggests Clark hasn't been exposed to those ubiquitous NBA "…
Houston Dynamo players Tyler Deric and Warren Creavalle were arrested this weekend after a dust-up with an off-duty cop working security at a bar. From Deric's attorney: "Mr. Deric was with other soccer players, some who were African-Americans. The club did not want them coming in . . . He's not guilty of assaulting…
When David Beckham left Real Madrid five years ago for what was billed as a "million-dollar-a-week" deal with the L.A. Galaxy, he said that he had two goals: He wanted to win an MLS championship, and he wanted to use his name to help raise the league's profile.
Billboards! We love billboards. Love it when someone has something so important to say, they can't afford to run the risk of not telling a passing motorist.
No, it's not Champions League, but it is a good way to show off the WSJ's outstanding "Sports Snapshot" photo blog-a-majig. Amazingly, the man getting kicked in the head is Houston Dynamo forward Brian Ching who used that very same dented dome to score a goal later in the game.