Fucking Black Keys will probably do this tomorrow. Frauds.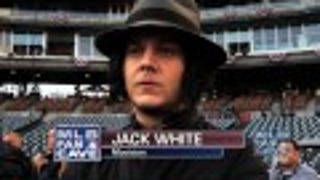 This is a hype video for Miguel Cabrera's 2012 triple crown season. There are several well known celebrities and ballplayers in it who say they want to get "Miggy wit it." Like the Will Smith song. And then, around the :55 mark, Jack White, noted Tigers fan, shows up. He is asked to say "gettin' Miggy wit it" and…
We saw a grumpy-looking Jack White at a Cubs game Tuesday, but he's apparently not done looking unhappy in baseball contexts just yet. Here he is, looking unkempt and generally uncomfortable as he takes BP at Comerica Park. You wish you could brood like that.