Titans QB Jake Locker announced today that he's retiring from the NFL at age 26: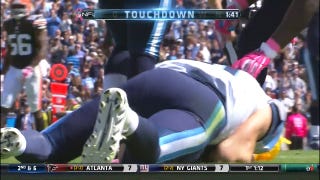 Watch the video above. You'll see Jake Locker scramble for a 10-yard touchdown and get clocked with a forearm shiver to the helmet. He goes down, clutching his head, and when he's finally helped to his feet, appears woozy, and stumbles. He was taken to the locker room to be evaluated for signs of a concussion; despite…
Four seconds into the play above, Jake Locker took an awkward double hit from Muhammad Wilkerson and Quinton Coples and had to be carted off the field with a hip injury. If anyone could sympathize, it was, well, everyone else on the field.
The Titans are feisty as all hell, only an overtime loss away from being undefeated. Jake Locker has started to look like an honest-to-goodness NFL quarterback, tossing six TDs to zero interceptions in his last three games. So, naturally Locker's going to be out a while, and Adam Schefter says the two Jets responsible…
One reason to bother watching SportsCenter the past few weeks — aside from watching legal baseball highlights, I guess — is the totally bizarre, always somehow informative "QB Camp" series the network has Jon Gruden hosting for a second year. While, like Gruden, we "don't believe half the [expletive] people on the…
I tried to disguise my blitz but Jake Locker picked it up immediately. He's a first-round draft pick and a four-year starter at quarterback for Washington. You reach that level, you're probably well coached.… [Sploid]
Chris Fowler summed up the second week of college football when he said on ESPN Gameday: "The fans deserve a better slate of games than these." He was right. Several of the games turned out to be exciting but there was nothing particularly gripping about a roster that only featured seven games, seven, where the point…