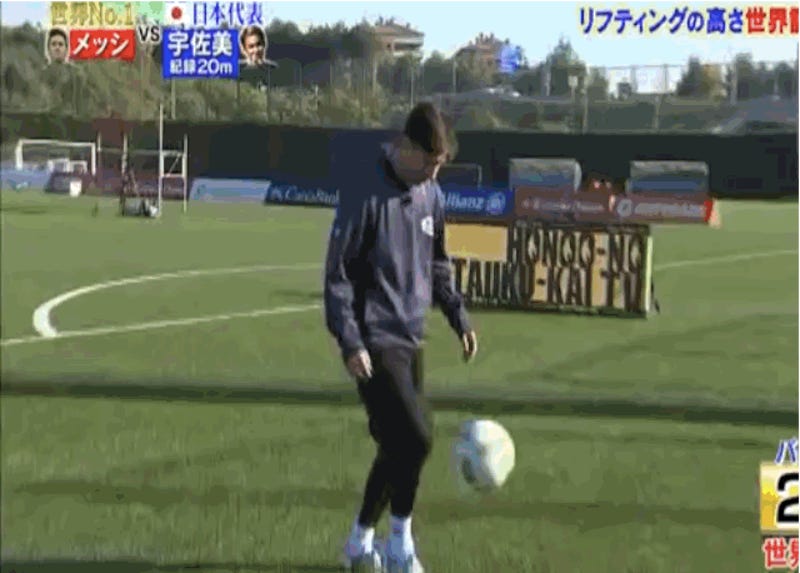 During the same appearance on the Japanese game show in which he bested that enormous robot demon keeper, Lionel Messi sought to reclaim the world-record juggling trick he set the last time he was on the show. Unsurprisingly, he succeeded:
A Japanese game show recently tested out the "Why don't you just play with a huge goalkeeper who can block the whole goal?" theory on Lionel Messi. He showed that, even if you get a nightmarish, house-sized Miitomo-looking demon to guard the goal, he'll still score on you.
Yeah, we've seen that left foot of Lionel Messi's cushion soccer balls flying at him from all different angles in game, but how about making him boot the ball about 60 feet into the air over a bar, sprint over to where it falls, and try to control it? Yep, still no problem.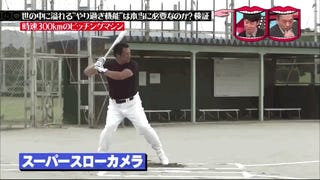 Ever wondered what it'd be like to stand in against a big-league hurler? Yeah, this is kinda like that, but if the hurler was, like, a Terminator or something. Here's former Japanese ballplayer Takeshi Yamasaki, trying to get his bat around on a nearly 200-mph fastball (the fun starts at around 3:45 in the video…
I'm telling you, man, the Japanese get game shows. Even after bringing us the 2 vs. 55 matchup of last week, they've thought of a new and even more ridiculous way to test the skills of a soccer player.