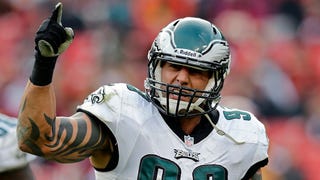 Before the 2011 season, the Eagles brought in Jim Washburn and then Jason Babin—who's only ever thrived in Washburn's 4-3. It worked well for a year, when Babin recorded a team-record 18 sacks. Like everything else defensive-related in Philly this year though, the D-line play has gone to shit. The Eagles released…
Jason Babin may have lost his mind yesterday, but he definitely lost his job today. The Eagles announced his release earlier today. In 27 games for the Eagles, Babin had 23.5 sacks. The main problem was that 18 of those sacks came last season.
Tonight's game between the Panthers and Eagles looked really good when the schedules first came out, but in reality, it will be a hot mess between two underachieving teams with no current playoff hopes led by coaches trying to save their jobs. Eagles' defensive end Jason Babin is still pumped up for it, though.…
Sign 1: A players-only meeting. What goes on at these things? Is actually strategy discussed, or is it just a lot of "we should probably play better?" Regardless of motive, the Eagles responded to an embarrassing loss with a meeting at their practice complex on Wednesday. CSN Philly reports that Michael Vick, Trent…
Every morning, the fine folks at Sports Radio Interviews sift through the a.m. drive-time chatter to bring you the best interviews with coaches, players, and personalities across the sports landscape. Today: It's just football, people!
Philadelphia Eagles defensive end Jason Babin strained his calf on Saturday, and while the team right away announced he would be out for about a week, they wanted Babin to undergo an MRI, just to be sure. One problem: Babin had been administered a pill that functions as an internal thermometer, so the MRI would have…
"Babin, the NFL's sack leader, said he was fined $15,000 for a hit on 49ers quarterback Alex Smith during the Eagles' 24-23 loss Sunday. Babin is playing in the first year of a five-year, $28.325 million contract. 'It's ridiculous,' he said. 'They just arbitrarily go around fining guys for whatever they want. I'd…