Puerto Rico beat the Dominican Republic 3-1 this evening in both teams' first second-round game. Yadier Molina drove in two runs and five Puerto Rican pitchers kept the WBC's best offense very quiet. Puerto Rico's defense came up big all game, starting with Eddie Rosario's rocket of a throw in the first inning.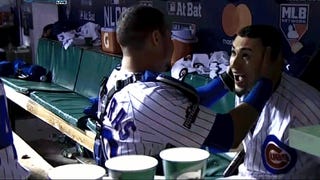 The Cubs just needed to win a game. And so they did, shutting out the Dodgers 5-0 Saturday night to earn a trip to the World Series for the first time since 1945. That was so long ago (how long ago was it?!) that this marks their first ever NLCS win as the World War II-era pennant was a simple matter of winning one…
I watched most of Game 5 of the NLCS in a noisy bar, but it wasn't the same experience I usually have while watching a game in public. Instead of glancing at the screen every now and then just to check the score while drinking and chatting, I found myself much more concerned with what was happening in the game than…
Javier Baez's incredible heads-up baseball has been the biggest storyline of the Cubs' narratively overwrought postseason. And with his team trailing 1-0 in Game 2 on Sunday night, he made a brilliant snap decision to bail them out of a two-on, one-out jam.

The Cubs continued rolling tonight in Game 1 of the NLCS as Javier Báez drove in Jason Heyward with a double and then stole home in a less-than-graceful manner. It's 3-0, and it's still the third inning.
The Giants finally remembered how to play offense and hit the baseball tonight, but Cubs second baseman Javy Baez is doing everything he can to shut them down. Baez only plays baseball at one million miles per hour, and he attacks approaching grounders like Jim Harbaugh attacks glasses of milk.
Without knowing it, Chicago Cubs rookie slugger Javier Baez pays homage to Isaac Newton's Third Law of Motion with each swing. He takes big giant cuts and hits big giant homers. The problem is, the equal and opposite reactions to the mechanics that generate all that power render the other parts of his swing wildly…
Cubs prospect Javier Baez has been in the majors for just over two weeks, but thanks to his ability to hit baseballs really damn hard and really damn far, he's already got quite a highlight reel to his name. During today's game against the Orioles, he hit a ball way out of the stadium.
Javier Baez, the 21-year-old prospect that Cubs fans have been jonesing for all damn season, finally made is major-league debut last night. It took him 12 innings to record his first career hit, but it was a hit worth waiting for.