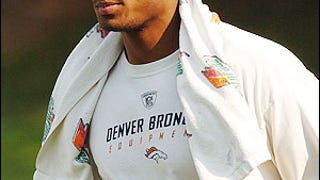 Because, honestly, who among us hasn't been overwhelmed by the powers of persuasion of Al Davis? Not that Raiders fans were that optimistic about this season to begin with, but the receiver you just signed to a six year $55 million dollar deal wanting to quit doesn't instill a lot of pre-season confidence. Walker,…
You don't decide when it's time to retire; Al Davis does: "Oakland Raiders receiver Javon Walker reportedly told the team he wanted to retire and offered to return his $11 million signing bonus before being talked out of it by owner Al Davis." [AP]
Okay, this makes absolutely no sense whatsoever, but it is "a statement" from Javon Walker about what he says happened during his infamous champagne-spraying night in Vegas. And which lucky media outlet gets the first quote from Walker? TheDirty.com, of course. Here's what Javon told the venerable +2 blog of record:
TMZ is now running photos of Walker seemingly in the middle of his $15,000 champagne splashdown party, and the site also suggests that he may have doused the wrong patron with his pink bubbly, which, as we all know, is an offense that may result in an overnight hospital stay with an orbital fracture.

Newly acquired Oakland Raiders wideout Javon Walker seemed to be having a festive weekend until Monday morning. The Las Vegas Journal's one-eyed gossip dog, Norm!, spotted him at Tryst nightclub Saturday night "spraying the crowd with some of the 15 bottles of Dom Perignon Rose champagne he ordered." But Monday…
Curious stories about the Darrent Williams tragedy seem to be popping up every hour, most of them surrounding wideout Javon Walker's whereabouts. Was he in the limo? Did Williams die in his arms? Did he show up to the Broncos facility with blood on his shirt as ESPN.com reported?
The first domino has fallen. Yesterday, in a move that everyone knew was coming but hadn't been made official, Packers wide receiver Javon Walker fired Drew Rosenhaus as his agent. The move is the first of what many expect to be several defections from Rosenhaus' stable of clients, considering he has the tendency…
• So, hey, now that we think about it ... Brett Favre was kind of a dick to Javon Walker. [Sports Frog]
• Hot new hockey site launching later today, by tapped-in anonymous blogger. Hey, it's a growth industry; hockey can't get any less popular. [HockeyBuzz]
• Ryan Howard is the Dontrelle Willis of hitting. Discuss. […