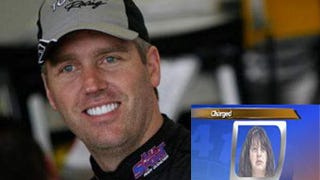 NASCAR's Jeremy Mayfield is being sued by his stepmother, Lisa, for "slanderous, false and defamatory statements" she says he made about her. You mean the murdering whore thing? Wait ... you were upset about?
Mayfield is accused of being a gigantic meth head, a charge he vigorously denies. He claims to have multiple clean drug tests from independent labs and that NASCAR spiked his failed drug tests. (This will be in court for awhile.) However, if you're trying to convince the world that you're a sober, level-headed citizen…
As noted last night, NASCAR says that Jeremy Mayfield failed another drug test, but he has fired back with even more outrageous countercharges—like implying NASCAR's chairman is on drugs and flat-out accusing his stepmother of murdering his father.
NASCAR has been looking for something, anything to get a judge to reinstate Jeremy Mayfield's ban after testing positive for meth. Perhaps testing positive for it again last week will do the trick.
In a random drug test last month, NASCAR driver Jeremy Mayfield allegedly tested positive for methamphetamine. Because when you're looping around a congested oval at 200 miles per hour, why wouldn't you want to be hopped up on meth? [ESPN]