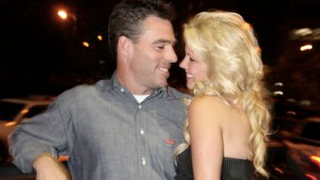 This not-so-young lady walked into the centerfelder's 15 Club in St. Louis with a little black dress and a white-stripped smile and walked out with a "Jim Edmonds Mowed My Lawn" t-shirt. [St. Louis Today]

So Chicagoans awoke this morning, poked themselves with sharp objects and discovered that, no, they weren't dreaming. As the sun came up on the month of June, Cubs fans found themselves with the best record in baseball; the first time that has happened so late in the season since Heinie Zimmerman and Orval Overall…

Augh ... man, the Cubs really did sign Jim Edmonds. Other than Pujols or Willie McGee signing with those guys, we can't imagine our brains hurting more than they do to see this. And we're sure Cubs fans don't feel any better about it. Proceed with extreme caution, Jim; Cards fans can no longer protect you, nor will…
Through it all, through all the hamboning and declining skills, we Cardinals fans have always loved Jim Edmonds. How do you not love a guy who has tattoos of both Darryl Kile and Josh Hancock? But man, if he signs with the Cubs, as has been heavily rumored, we might have a problem.
We like it when the Internet has something before the Jayson Starks of the world do, so we're gonna run with this, because it's the end of November and not much is more fun than a good trade rumor. According to MLB Trade Rumors, the St. Louis Cardinals are "close" to a "major" move, with sources saying that…

We've been so caught up with lesbian cheerleaders and fake press conferences — both of which, just to wrap all this up, we'll be checking back with later today — that we forgot to check in with the great On The DL girls this week. We're sorry, ladies! We still have nothing but love.