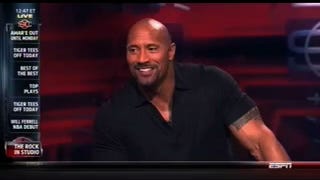 Once again, John Buccigross is in the middle of daytime SportsCenter antics, this time with Dwayne Johnson, who may or may not still be using "The Rock" professionally. Johnson was on ESPN to promote some lame-ass Jurassic Park ripoff titled Journey 2, which sounds more like the name of Steve Perry's backup band…
We noted last week the 2pm Eastern SportsCenter has become a playground for the surreal, one anchors Chris McKendry and John Buccigross tend to enhance—if not outright endorse—with their quick wits and solid rapport.
John Buccigross, Fire Joe Morgan's most ardent fan, bequeathed his own gift to the site on SportsCenter this afternoon. He quickly corrected himself for the factual error.
"No one writes things like 'Heck, as a kid...' unless they are sucking up to 90-year-olds in Clearfield, Pa., who read Parade magazine" is the finest construction since Jaromir Jagr's rant on the Magna Carta. Thank You.—John Buccigross, ESPN, via email.
Kentucky coach John Calipari talked with SportsCenter today. Wrapping up, he had the chance to say something to ESPN's John Buccigross. Calipari proceeds to call him a "jagoff" yet again. H/t reader Tyler for the video.