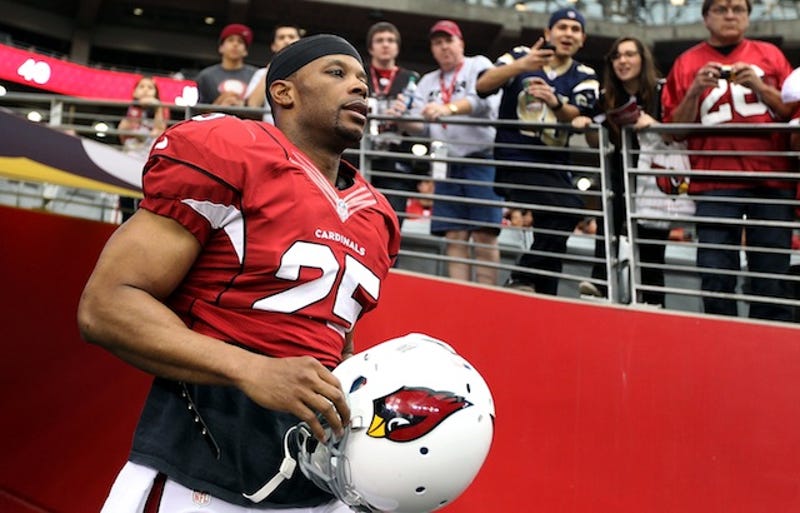 Kerry Rhodes is in the discussion section below, ready for your questions. There should be plenty to talk about. Update: He's done.
At 2 p.m. EST, NFL safety Kerry Rhodes will be joining us for a live chat with readers. Here's something to read beforehand.
Last week I wrote a post asking why free agent safety Kerry Rhodes couldn't find a spot on an NFL roster. Charlotte radio hosts Taylor Zarzour and Marc James were wondering the same thing, and put the question to Panthers wideout Steve Smith, who was disturbingly insistent in rejecting the idea.
The fact that no NFL team signed or even worked out All-Pro safety Kerry Rhodes in the offseason is mind-boggling, but at least one team now wants to give him a look.
Drew Magary's Thursday Afternoon NFL Dick Joke Jamboroo runs every Thursday during the NFL season. Email Drew here.
Lost in yesterday's important news was this "SUPER WORLD EXCLUSIVE" from MediaTakeOut: Kerry Rhodes kissed a dude on the head. And not just any dude, but a dude who is said to be Rhodes's assistant, and gay. [Update: We've taken down MTO's photos. See note at the bottom.]
On Sunday, the Jets had the ball deep in Arizona territory and a one-point lead. The directive came in from the Cardinals' sideline: Let them score a touchdown, so Arizona could get the ball back down eight with more than a minute remaining. Sound advice, though it was mooted when Shonn Greene intentionally slid at…