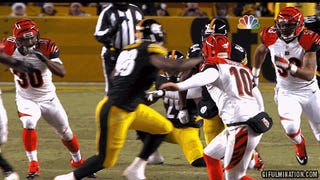 The NFL's VP of officiating Dean Blandino said last night that the hit by Steelers LB Terence Garvin on Bengals punter Kevin Huber should have been a penalty.
Kevin Huber, the Bengals punter who fractured his jaw after an illegal hit by a Steelers player Sunday night, has one young fan, apparently. This seven-year-old's dad tweeted out a photo of his son's letter of support to Huber.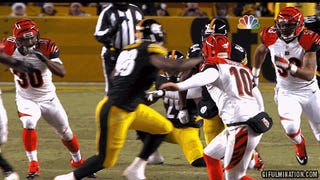 Kevin Huber was a lock for the Pro Bowl. But the Bengals punter's tremendous year was cut short with a fractured jaw, suffered when he was blindsided by Steelers LB Terence Garvin. It sprung Antonio Brown for a touchdown, but it was a blatantly missed penalty that should have cost Pittsburgh the score.