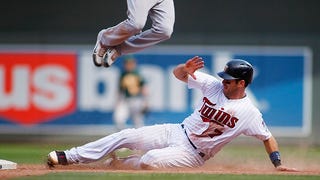 You're probably used to this sort of subtle cudgel being twirled at cities like New York and Boston, which tend to chew through their heroes just as quickly as they can exalt them. But Tim Keown's piece in the current issue of ESPN The Pulp-Based Periodical is one of the rare stories that quietly rips a place with…
Kelsi Culpepper and Taylor Campione, a same-sex couple from Minneapolis, are filing a complaint with the Minnesota Department of Human Rights after a Target Field security guard rebuked them for kissing at a Twins-Angels game last month. City Pages reported:
From this week's SI Pop Culture Grid: Person I'm Dying To Interview..."Kirby Puckett. One of my idols growing up." [SI]
When Kirby Puckett died last year, he left behind a most complicated legacy.
I've gotta bring you some sad news to bring you this afternoon. The Minnesota Twins have announced that hall of fame centerfielder Kirby Puckett has suffered a stroke and is undergoing surgery in Arizona.