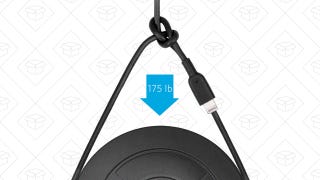 Anker's PowerLine Lightning cables have long been our readers' favorites, and two different models are on sale today on Amazon.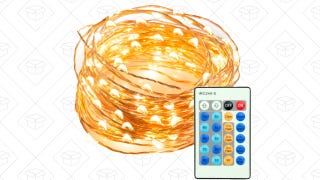 It's a scientific fact that every outdoor space looks better with copper string lights, and $12 is a fantastic price for a 33' strand, especially one with a remote that can power them on and off, and even make them dim, pulse, and strobe on demand.

Joao Contreras Fuentes is either one lucky son of a bitch or tops on God's shit list, take your pick. He was playing soccer for the club Sport Aguila in the Copa Peru when a bolt of lighting leaped from Zeus' fingertip and basically erased Fuentes in the fashion of blowing out a candle. The bolt ignited and vanished…
Grover Anderson was forced to endure last night's Giants game, a 7-0 whipping at the hands of the Red Sox. He calls this shot, from the fifth inning, "the only highlight."
Mother Nature dropped by Rangers Ballpark unannounced last evening, unleashing a thunderclap at the Rangers-Twins game that evacuated the bowels of all in attendance. Twins outfielder Denard Span claimed "That's the loudest noise I've ever heard. I thought Jesus was comin!" on his Twitter account, while fellow…
As we open the file of stuff you never in a million years thought would happen: Former major leaguer Geremi Gonzalez was killed by lightning on Sunday while riding a personal watercraft on a lake in his native Venezuela. You may recall that Gonzalez won 11 games for the Cubs as a rookie in 1997, but are you aware that…