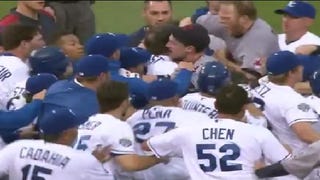 Benches cleared twice in Kansas City on Saturday, with Jonathan Sanchez hitting Shin-Soo Choo, and Indians starter Jeanmar Gomez leading off the next half-inning by drilling Mike Moustakas in the lower back. There was the requisite pushing and shoving and tough talking, and the Indians won in extra innings, and…
In sports, everybody is a winner-some people just win better than others. Like Cedric Benson, who won the weekend by making the Chicago Bears look foolish. Granted, he's not the first.
Despite appearances, the New York Mets are not baseball's worst team. That honor belongs to the Washington Nationals, a organization whose legendary incompetence should be memorialized on the marble arches of the great city that wishes they played elsewhere.
In the least surprising firing of ever, Manny Acta is done as the Washington Nationals manager—but will they continue to fail in even more remarkable and outlandish ways in the second half? Or will they just merely suck?
Last week, Elijah Dukes hit a walk-off two-run homer to beat the Cardinals in the second game of a doubleheader. (It really was an awesome game.) Elijah, as Elijah is wont to do, celebrated a bit too vigorously, upsetting an umpire and his manager, Manny Acta. Thus was the fuse lit.
Close observers of the Catholic religion know that the Pope will always come up throwing after a diving catch; unless it's the final out of an inning, of course. In that case, His Most Holy Father will make sure that the umpire sees the ball in his mitt. Another Papal web gem! I can't count the number of times the…