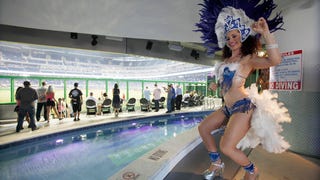 Adam Greenberg got his much anticipated first official major-league at-bat last night. R.A. Dickey struck him out on three pitches, but Topps thought his "dedication, hard work & persistence" were worthy of being immortalized on a baseball card. The stats on the back of that card are going to look pretty unusual.
Adam Greenberg's career slash line is .000/1.000/.000. On July 9, 2005, Greenberg made his debut with the Chicago Cubs when he entered a game against the Marlins as a pinch-hitter in the ninth inning. His major league debut ended abruptly, though, when Valerio de los Santos's first pitch, a 92-mph fastball, hit…
Ozzie Guillen is back on Twitter, after three-and-a-half month sabbatical. Today he shared with the world his thoughts on Derek Jeter, Alex Cintron, football, and bullfighting, all in typical Ozzie fashion:
Jason Bay has been having a bit of a rough go of it lately...this season...since he was diagnosed with that reverse-aging disease since joining the Mets. Mets fans can be tough crowd to please, too, so when Jason Bay hit a spirit-lifting grand slam during today's game to put the Mets up five on the Marlins, you know…
Logan Morrison is one of baseball's most prolific tweeters, and some of his vaguely salacious tweets have landed him in vaguely hot water with management. David Samson, Marlins President, had this to say:

A couple of Australians sailed out into the ocean to release a marlin back into the wild. That sounds like a nice story, right? Well, it would have been, if a giant shark hadn't come out of nowhere to rip the marlin to pieces in front of them and their cameraman, who was stuck in the water at the time.