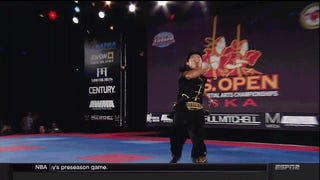 If you're old enough to remember any of the 80's, you know that ESPN wasn't always the home to 24-hour jabbering analysts and NFL talk shows. In its more fledgling days, the WWL aired whatever content to which it could obtain rights; thus, Americans were introduced to wacky hat-wearing and fingergunz-pointing…
Jim Kelly, whose role in Enter The Dragon made him the first black martial arts movie star, died over the weekend at his home in San Diego. He was 67.
This picture, of Jiu Jitsu master Clark Gracie, has been floating around on the internet for a while now, but its incredible meme-worthiness went unnoticed for months. Thankfully, that mistake has been corrected, and now we are all able to enjoy Ridiculously Photogenic Jiu Jitsu Guy.
Boomer Esiason interviewing Ralph Macchio on the enduring legacy of The Karate Kid? Yes, sign me up. Oh, and did you know they're doing a remake? Wax on. Wax off.
I can't count the number of times our inbox has been clogged with demands for more kid karate videos. Here, you maniacs! Now leave us alone for a couple of days.
At last, the tyranny of Wrestling for Jesus may be over. Those guys will be running for the hills when faced with the might of Karate for Christ, a movement with more than 400,000 members who will turn the other cheek just so often. It is not known whether Jesus used The Crane technique in his teachings, but we do…