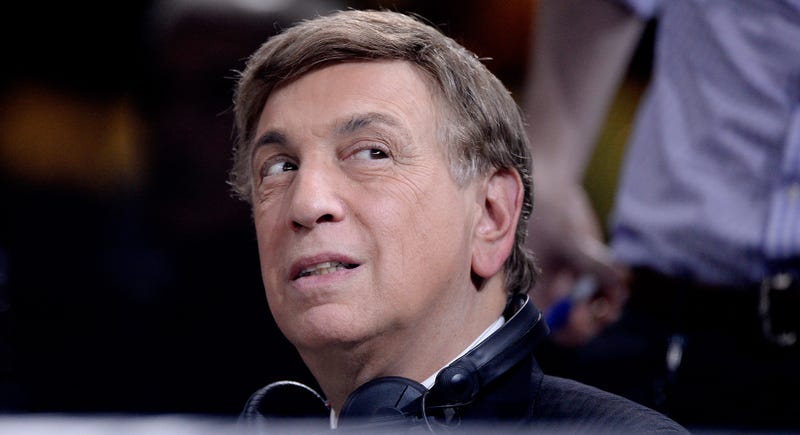 The worst performance of the Western Conference Finals wasn't Russell Westbrook's four turnovers in the final two minutes of Game 6, Shaun Livingston's disappearing act, or the referees letting Draymond Green get away with murder. No, the worst performance of the Western Conference Finals belonged to TNT announcer…
What is there left to be said about Adrien Broner? We've shared plenty of our own words on "The Problem," and brought you a few of his too. But Broner's bout against John Molina Jr. on national NBC tonight brought veteran sportscaster Marv Albert to the mic, and the combination really made for a special moment.
Veteran announcer Marv Albert has been running blooper reels as a guest on David Letterman's program for decades. In his 126 appearances on either Late Night With David Letterman or Late Show, the "Albert Achievement Awards" (set, always, to that ragtime vamp) have established the canon of sports bloopers. Tonight,…
We're surprised this doesn't happen more often, and maybe it does—but hearing popular NFL referee Ed Hochuli do it has a special flair. Hochuli's description of the results of a video replay in today's Bills-Colts game required his use of the word "buttocks"—you know the workout-obsessed ref wanted to use "glutes,"…
Today, we are reminded, marks the 15th anniversary of Marv Albert telling a Virginia Circuit Court that he would be pleading innocent to sexually assaulting—biting—his side piece. We thought this, originally published June 27, 2011, would be a nice jaunt down memory lane.
This month, Marv Albert celebrated his 70th birthday and joined the NFL on CBS. He announced he would leave his gig calling Nets games for the YES Network—he wouldn't have the time. The CBS job "wasn't something I was looking for," Albert said. Marv, at 70, is sports' most sought-after voice, so much so that he's…
What sounded like one of the most bizarre fights since Axl Rose attacked karate-chopping fashion mogul Tommy Hilfiger, longtime NBA announcer Marv Albert told the Dan Patrick show that he "never crossed paths" with angry rapper 50 Cent. [DPShow]
Marv Albert appeared on Wednesday's ¡Jimmy Kimmel Live! So did 50 Cent. This encounter could end in only one way: with fisticuffs.
Whatever your thoughts on Marv Albert, it's rather impossible to deny that he is resilient. Honestly, it was only 11 years ago when those whole biting charges came around. We really thought he was done. Toast. Over. We mean, look at the Wikipedia wrapup.