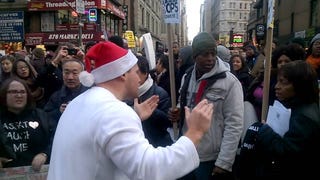 New York City played host to both SantaCon and the Millions March Saturday, and that's how you get this real-life Facebook commenter smoking a cigarette as he explains to protesters that if people simply keep their hands up and listen to cops, they won't end up like Michael Brown or Eric Garner.
Stephen Colbert waded into the mess surrounding the St. Louis Rams players who came out to player introductions against the Raiders on Sunday in the "hands up, don't shoot" pose, and the subsequent demand from the St. Louis Police Officer's Association that the Rams apologize. The bit is quite funny (despite the…
Fires, gas masks, rocks, riot gear, gunfire, smoke pouring out of the smashed windows of an Advance Auto Parts ... everyone saw last night's news, and many St. Louisans were wary of becoming part of it. But following a grand jury's decision not to indict Ferguson police officer Darren Wilson for the shooting death…
ESPN columnist Jason Whitlock wrote a column last night wherein he tackled Monday's Michael Brown protests outside of Busch Stadium. Protesters demanding justice for Brown's shooting death at the hands of Ferguson police officer Darren Wilson were met by a crowd of Cardinals fans exulting in the death of a black male.
Sports Illustrated/MMQB writer Robert Klemko was arrested in Ferguson tonight, reportedly by order of Missouri Highway Patrol captain Ron Johnson himself. Other reporters were arrested or threatened with mace or being shot.
The United States of America is not for black people. We know this, and then we put it out of our minds, and then something happens to remind us. Saturday, in the St. Louis suburb of Ferguson, Mo., something like that happened: An unarmed 18-year-old black man was executed by police in broad daylight.