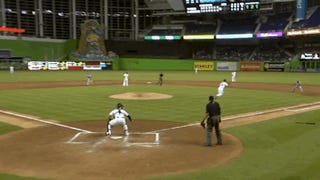 The Marlins got boned in a major way by the new and confusing rule that prohibits catchers blocking the plate. Although Zack Cozart was initially ruled out by home plate umpire Mike Winters, a lengthy umpire review eventually overturned the call and ruled him safe. Instead of a 1-0 Marlins lead heading into the…
This was a trapped ball. It was pretty clear, and indisputably so on replay. Yet umpires upheld their initial ruling of a catch, even after Ron Gardenhire's challenge. My headline up there isn't some huffy hyperbole on just how baffling the call was—it's about how umpires literally didn't give an explanation for how…
In the seventh inning of last night's game between the Rockies and Cardinals, Matt Carpenter went to first after seemingly being hit by a Franklin Morales pitch. The Rockies challenged the play, and after a lengthy replay review, the original call was upheld despite it being pretty damn clear to everyone at home that…
This run, the Reds' sixth of 11, didn't have much of an impact on the result of a game, which saw Pirates outfielder Travis Snider take the mound in the ninth (and strike out Joey Votto). But the controversial play at the plate may have been the best example yet that no one, not managers, coaches, or umpires, quite…
A little bit of baseball replay history, and an old-fashioned inexplicable Ron Washington decision, all on a simple stolen base attempt.
With two outs in the ninth in a tie ball game, Starling Marte tripled off the right field wall, and came home on a throwing error on the relay. He was called out at the plate. A year ago, this game would have gone to extra innings. But thanks to replay review, the Pirates got to enjoy some delayed gratification.
Yunel Escobar struck out on a 4-2 pitch, which is a good sign that something went horribly wrong.
It took exactly four days for me to do a complete 180° on MLB's new replay review system. It happened when umpires lost track of the count in the ninth inning of last night's Yankees-Astros game, and spent more than three minutes using replay to count balls and strikes. I went from let's use technology to make sure we…
In the 13 games played on opening day, managers took advantage of MLB's new replay review system to challenge four calls, with a fifth coming from the umpires themselves. Two of them were overturned, but just as importantly, the reviews were conducted quickly—the shortest in 0:58, the longest in 2:30, and an average…