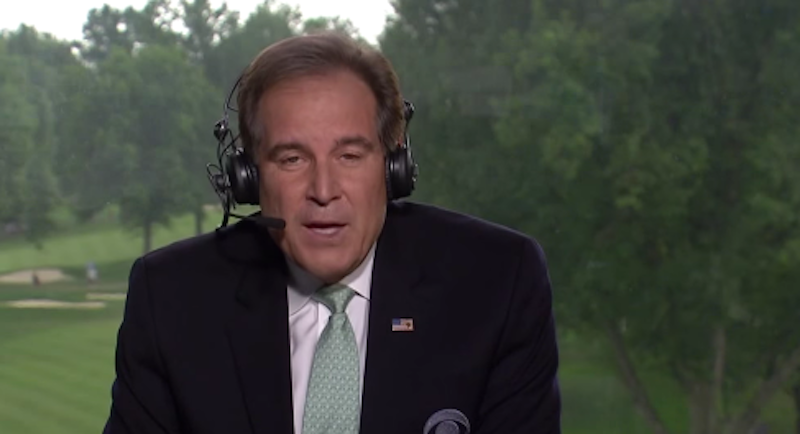 Imagine you are Villanova guard Ryan Arcidiacono, a senior who just helped your team win one of the greatest championship games in NCAA history. You're sweaty, you're euphoric, and you're covered in confetti. You want to scream and hug your teammates and find your family. You turn toward the crowd, and you see your…
Well, here we are again. Another victorious college, another burning college. The kids in Storrs have gone crazy after UConn beat Kentucky Monday night and they've ripped down a lamp post and thrown it through a school building's window. There are fires, flipped cars, and people climbing things they shouldn't be…
Walker and Kidd-Gilchrist are Bobcats teammates, but tonight they were adversaries. Michael Kidd-Gilchrist was one of Coach Cal's one-and-doners and Kemba Walker is a UConn guy. So they got together to watch the game and apparently made a friendly wager that Kidd-Gilchrist clearly lost. That's Walker's number…
Shabazz Napier had some parting shots for the NCAA following his MVP-esque performance in defeat of the Kentucky Wildcats for the NCAA Championship. Before his interview with Jim Nantz even began, Napier asked for everyone's attention and introduced the "Hungry Huskies" and told the world how pissed off they were…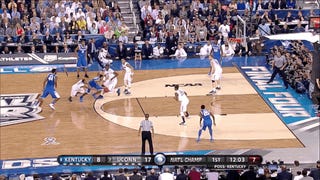 Following Kentucky's win over Wisconsin Saturday night, Alex Poythress looked to suffer a pretty painful leg injury. He got himself stuck at the bottom of a celebratory pile-up on the court, and twisted his leg and was in obvious pain. By the look of things tonight, all seems to be OK.
Pitino promised us that he would get a tattoo to commemorate his team's 2013 championship run, and he has followed through on that promise. It's a perfectly fine tattoo, I guess. Although we were hoping for something with a little more oomph.
All the talk yesterday was about Butler's Cinderella run to its second consecutive NCAA final, and much of the talk afterward was how disappointing it was to see the Bulldogs fall short again, and in such hideous fashion.
"The Carolina lead mushroomed to 10 after 4:04. To 15 after 7:03. To 20 after 9:38. It was a seal clubbing..." [ESPN]

You have to admire a national championship game in which most of the final possessions late in regulation are fast breaks. In a relentlessly entertaining national championship game, the Kansas Jayhawks win their first national championship in 20 years. Bill Self gets his title, and Mario Chalmers secures his place in…