Mariners DH Nelson Cruz came to the plate in the sixth inning of tonight's All-Star Game. But before he stepped into the box, he stopped to take a cell phone photo with umpire Joe West. "The oldest guys in the game," he told West after Cardinals catcher Yadier Molina snapped the photo.
The Seattle Mariners wrapped up a sweep of the Oakland A's today in the Bay Area, and the club is now first in the AL West (the A's are weirdly twice as good on the road than at home this season, perhaps owing to the fact that their stadium is a cavernous wind trap without adequate plumbing.) Seattle's doing it with…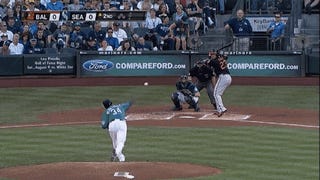 This Nelson Cruz blast was the most line-drive home run of the year, reaching its apex at just 41 feet off the ground, according to FanGraphs. Check out the season's deepest, shortest, and other "extreme" home runs over at FanGraphs.
For whatever reason, David Ortiz hates it when you bring up that he tested positive for performance-enhancing drugs in 2003 (a fact confirmed by the union). The latest target of his ire: MLB Network hosts who declared he has received a "free pass" for his transgression.
Per Pedro Gomez, Jhonny Peralta and Nelson Cruz won't be seeing any action this MLB postseason. The 50-game suspensions for their roles in the Biogenesis scandal aren't holding them back, but their respective teams are.
Set aside some time to read Tim Elfrink's bombshell story in the Miami New Times, on what can only be termed BALCO East: a Miami "anti-aging clinic" that specializes in HGH, synthetic testosterone, and any other performance-enhancing drug you can imagine. We know this because the clinic's director helpfully kept…