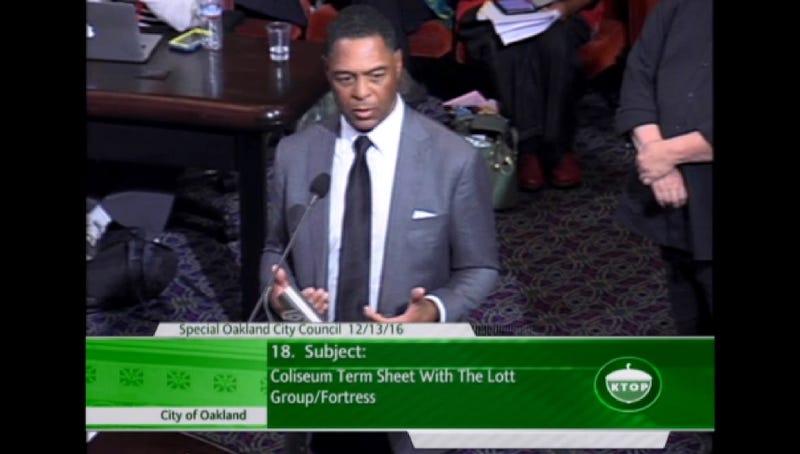 Oakland is one step closer to helping Mark Davis pay for an NFL stadium. The Oakland City Council and Alameda County Board of Supervisors both voted to approve the framework of a plan that would require that Oakland pay $200 million and give up a $150 million piece of land. The County Board vote passed with three yes…
Just before the NBA season started, the San Jose Mercury News reported that several Bay Area politicians had been abusing their access to Warriors tickets, using them to grease political wheels and pay off personal debts. The stadiums that the Warriors, A's, and Raiders play in have clauses in their contracts that …
Vulgar olive loaf Donald Trump is hitting the campaign trail in California in advance of the state's June 7 primary. A good way to appeal to your constituents is to show that you're "one of them" by feigning nominal interest in their sports teams. If you do this, though, you should have a working sense of geography.

Early in the morning on New Year's Day 2009, a 22-year-old man named Oscar Grant, on his way home with his girlfriend, was shot and killed by a Bay Area Rapid Transit (BART) cop while at the Fruitvale BART stop in Oakland. The incident was captured by dozens of commuters on a stopped train, and the footage, seen…
Here's a working barstool-grade theory as to why, during its dynastic run to four (perhaps soon five) titles since 1999, America still embraces the San Antonio Spurs with a yawn and a why are you still here? squint. This phenomenon has flustered if not baffled sports cognoscenti for years. But they play pure,…
Yesterday's fight video was so operatic in scale and intensity of emotion that we figured we'd give it the soundtrack it deserves.
Although the Raiders have given no official indication on who they're leaning toward as head coach, it's probably going to be Tom Cable, and it could be very soon. [San Francisco Chronicle]