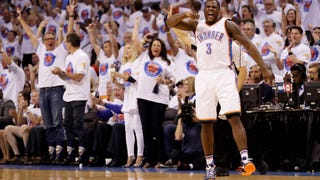 Kevin Durant is a Golden State Warrior now, which triggers dozens of fascinating basketball subplots. But off the court, it will help answer a question I've had for a long time: is Oklahoma City actually a viable long-term basketball market?

Oklahoma City is looking suspiciously like a team that is going to lose a second-round series. Kevin Durant posted 25 points, 11 rebounds, 5 assists and 3 steals, while Serge Ibaka chipped in 13 points, 10 boards and 4 blocks. And still Memphis ground out an 87-81 win for a 2-1 series lead on an afternoon when both…
The Detroit Pistons are about the embark on a six-game road trip, their longest of the season. In preparation, The Detroit News drew up a snazzy map, and Terry Foster put together some good info about start time, where to eat, what's a cute connection to Michigan, etc.
About a week ago, we told you about the high school exploits of "starting point guard" Skip Bayless. According to Skip, he started for the team that would eventually lose in the state finals. Turns out, Skip Bayless is a fibber. Or, maybe his coach just had an unconventional way of constructing his lineup. You decide.
Sonics Owner Clay Bennett is a jowly-faced bastard. I'm doing him a favor by calling him that because that' s probably one of the kinder things he'll be called from now on by heartbroken Seattle residents, who after two years of thinking their beloved 41-year-old franchise would stick around if they lobbied hard enough
For some reason, we imagined Oklahoma City welcoming Clay Bennett and the Sonics with arms extended, lying prostrate, screaming "thank you" to the heavens. Anytime someone does something to a city as horrible as what Bennett has done to Seattle, there has to be someone who benefits, right? Other than just the owner?…