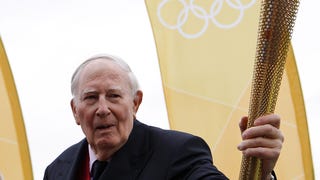 After traveling for 50 days through Greece and the UK, the Olympic torch was briefly extinguished by a pesky splash in the middle of the canoe slalom venue. Zachary Franklin, the torch bearer, tried his best to keep it "well away from the water," but the Eternal Flame was no match for the swift rapids that soon…
Got an image you'd like to see in here first thing in the morning? Send it to tips@deadspin.com. Subject: Morning crap.
The Olympic Torch passed through London and Paris on Sunday and earlier today, and was only snuffed out a few times by protesters: Once with a fire extinguisher. There were near riots and close to a hundred arrests. You know, I'm starting to suspect that some people don't like the Olympic Torch.
The San Francisco Board of Supervisors recently announced the route that the Olympic Torch will take through The City this coming Tuesday; a waterfront jaunt beginning at AT&T Park's McCovey Cove and ending at Justin Herman Plaza. Since I'm going to be in that neck of the woods anyway, I'm going to check it out. I see …