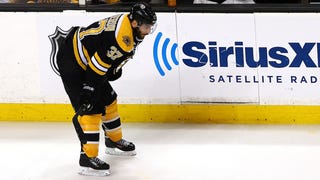 Bergeron, the Bruins' irreplaceable two-way center, was questionable for last night after being rushed to the hospital during Game 5. No one would say precisely what was ailing him, but after he had to watch the Blackhawks lift the cup, he fessed up: he was a broken man.
They say the NHL playoffs are a battle of attrition, and the Blackhawks and Bruins, the last two teams remaining, remained remarkably unscathed until the finals. But a close, hard-fought series that's already required 20 periods over five games is taking its toll, and each team may or may not be without its best…
Patrice Bergeron's shorthanded goal made it 3-0 Boston in the waning moments of the second. For all intents and purposes, it was an insurmountable lead and was the moment the Cup engravers could start checking their spelling. But it was also a microcosm of so many things that swung the series for the Bruins.
The hubbub over Alex Burrows' biting Patrice Bergeron's finger in Game 1 intensified when the not-suspended Burrows scored two goals in the next game, including the game-winner. Max Lapierre didn't exactly help the cause when he offered Bergeron his own digit as compensation. "Have a bite! There's a character,"…