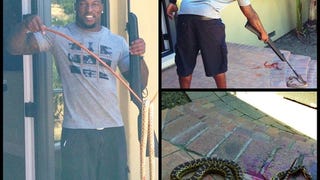 And we have the gory photos from the scene thanks to Patrick Willis, who posted them to Facebook. The 49ers linebacker looks pretty pleased with with himself for successfully protecting his home from the scourge of that nonvenomous gopher snake.
Every morning, the fine folks at Sports Radio Interviews sift through the a.m. drive-time chatter to bring you the best interviews with coaches, players, and personalities across the sports landscape. Today: He's just some dude.
The big question in San Francisco right now: Should Mike Singletary be kept on as head coach next season? The overwhelming sentiment so far is yes, although Jets' wide receiver Brad Smith may not agree. If there were ever any doubt as to whether the 49ers would begin to take on Singletary's rabid personality, this…
With the 11th pick of the NFL Draft, the San Francisco 49ers select Patrick Willis, LB, Ole Miss. Mike Tanier of Football Outsiders tells you all about it.