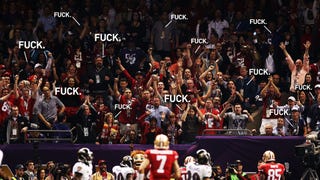 Twitter reports that the Super Bowl generated 24 million tweets last night. Most of them were terrible, so I just looked at the ones that said "fuck."
Mayors of rival cities make cities make light-hearted bets on the outcome of sporting events all the time. Just yesterday the Packers-49ers game had chocolates, cheese curds, sparkling wine, "a free admission day to the Children's Museum" and bread, beer, more chocolates and a "a free admission day at the…
Yesterday, the NFL announced its final five candidates to succeed Paul Tagliabue as NFL commissioner. The list includes the favorite, Roger Goodell, who started as an intern in 1982, as well as lawyers and executives. Tagliabue is retiring in August.