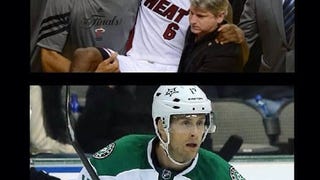 From the second it was reported that Rich Peverley regained consciousness and asked to get back into the game, you knew where this was going. Peverley was going to be exploited by hockey's worst fans as an assault on LeBron James, on basketball, on any sport that isn't hockey. It was as predictable as it was sad.
When Rich Peverley collapsed, everyone—from the players who immediately summoned help, to the medical staff who treated him, to the officials who decided to postpone the game, to the league and in-arena personnel who kept fans informed—did their jobs perfectly and kept a scare from becoming a tragedy.
A brutally honest Lindy Ruff addressed the media following Rich Peverley's mid-game cardiac event and said the first thing Peverley asked him when he came to was how much time was left in the first period. Ruff was still visibly shaken and told reporters he had no interest in coaching a game right now.