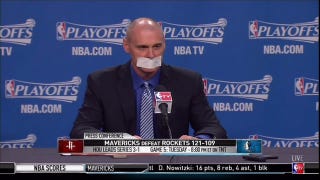 The NBA fined Rick Carlisle $25,000 for criticizing officials after the third game in Dallas's playoff series against Houston, so the Mavericks head coach brought a prop to his post-game presser after tonight's 121-109 win over the Rockets.
Dallas Mavericks head coach Rick Carlisle did not have the best day at the office yesterday. His team came away with a 99-92 victory over the Toronto Raptors, which was good, but he also got into a shouting match with starting point guard Rajon Rondo in the middle of the game, which was very bad. Then, he just about…
Every team loves rooting around for under-appreciated, undervalued, post-Moneyball players; the Mavericks have simply taken it to an extreme. Under Rick Carlisle, Dallas has thrown out conventional fit in order to focus strictly on value, the way you might in baseball, but which has failed again and again in the NBA.
Nobody will ever be as contemptuous and dismissive during sideline interviews as Gregg Popovich, but that didn't stop Mavericks head coach Rick Carlisle from paying homage to the master during last night's Rockets-Mavericks game.
A blown charging call that resulted in an Oklahoma City bucket sent Mavericks coach Rick Carlisle off the edge yesterday, and understandably so: the Thunder went to 3-0 in the series against Dallas, nearly ensuring we won't have a repeat NBA champion (which, frankly, was not likely to begin with). All the…
Mavericks head coach Rick Carlisle showed some frustration after Oklahoma City's 102-99 win over Dallas tonight, especially in regard to this incident between Dirk Nowitzki and Kendrick Perkins, one that might look mild when compared with certain proponents of World Peace but an example of the physicality that has…
The Thunder took 33 trips to the line, and the Mavericks didn't think that was particularly fair. "We attack the basket strong and didn't get anything," said Shawn Marion. "They call ticky-tack down on the other end."
The drinking helmet is not only a good sign complement. It's a must. [The Sports Hernia]