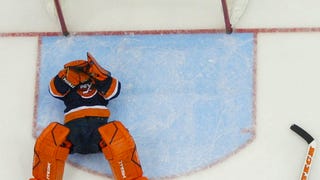 Islanders goalie has had a week to come to terms with being waived, and possibly the end of his star-crossed NHL career. Yesterday he sounded upbeat about his AHL assignment, telling Newsday, "The last couple of years, with all the injuries, if it's taught me anything, it's that I need to enjoy what I do."
Rick DiPietro (full legal name: Oft-Injured Goaltender Rick DiPietro) may have come to the end of the road on Long Island. The Islanders put him on waivers today after he made just three starts this season—all multi-goal losses—and an era has come to an end.
The Islanders' $4.5 million third-string goaltender was sent home to see the doctor after he suffered a lower body injury, even though he's already been on IR for a month. [Newsday]
The 15-year-man will be out 4-6 weeks with facial fractures and knee swelling. Should have been wearing knee pads, because Brent Johnson made him his bitch. [Islanders.com]
We don't mean to imply that there's a possibly new New York Islanders general manager Garth Snow — shown here on a "scouting trip" — might not necessarily be ready for life in a board room, considering just last year he was the team's backup goalie.