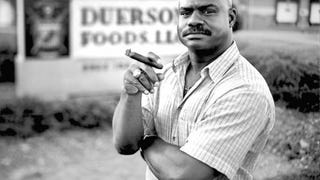 Robot-fearing Chicago Sun-Times sports columnist Rick Telander senses a higher power surrounding these 2012 Chicago Cubs. It's something holy and ethereal, or maybe it's grounded in hard, empirical data. Gosh, maybe we'll let him sort this out.
I'm not sure where to begin with this column by Rick Telander of the Chicago Sun-Times. The headline says it's about Jay Cutler, but the first half of it has nothing to do with Jay Cutler—it's all about Tom Brady and Eli Manning, since they're in the Super Bowl. By the time Telander gets to telling us about Cutler,…
We do not know what is going on in Rick Telander's head, but he wrote a column about brains and computers yesterday that is so full of raving, delusional paranoia about some impending tyranny that he might as well be on mushrooms or in the Tea Party.
In a tough economic market, you'll find many sports writers scaling back on their criticism for the sake of job security. Trying to garner attention through traditional shit-stirring isn't the best way to keep your self afloat right now — piss off the wrong source or anger enough readers and you may find yourself…
The long-standing feud between former Chicago Sun-Times columnist Jay Mariotti and current CST columnist Rick Telander has been well-publicized and generated notoriety given its potential for violence. Once Jay quit, the yelps of joy from inside the Sun-Times' newsroom could pretty much be heard (or read, rather)…
So we've been noticing something goofy going on with the coverage of the Ozzie Guillen-Jay Mariotti story; on the whole, the sturm und drang seems to be directed away from Guillen, who, after all, is Ozzie Guillen, a guy whose rantings whom we all kind of accept like the drunk uncle at Thanksgiving who's convinced…