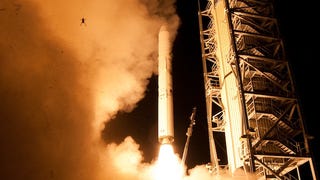 Let's go behind the scenes of our notable stories in 2013. Here's how Rocket Frog made it onto our site.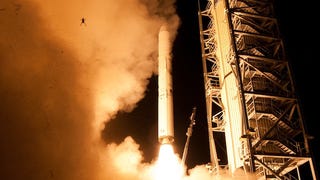 This remarkable photograph of a frog's ascension into the heavens was captured during the September launch of NASA's LADEE-laden Minotaur V Rocket. We'd like to think that, instead of succumbing to fiery death and returning to Earth as fried grenouille a la NASA, Rocket Frog slipped the surly bonds of Earth and made…
The Rocket Frog Photoshop contest went about as well as we could have hoped. You all did right by Rocket Frog, the 21st century's most important icon. Here are the best of your submissions, as well as your winner.
Rocket Frog will be, without a doubt, the enduring image of this century. It is a perfect work of art, and it will never be topped. As such, we are sure that there are plenty of other pictures and situations out there that could be improved by the presence of Rocket Frog, and you are going to do the improving.
This amazing image—captured by NASA cameras during a launch last week and flagged by Universe Today—has not been altered in any way, and it is my new favorite thing. Just look at how high that goddamn frog is!