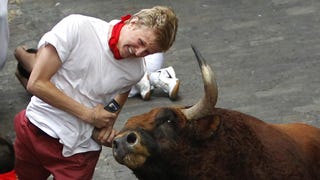 A mere 23 people were injured during the most recent running of the bulls, which somehow is still a thing people do. The Associated Press has a gruesome rundown of the misfortunes that befell these silly twats, many of whom collided and bottlenecked at the entrance to the bull ring. Bulls then trampled, hurdled and…
After photos emerged of the Jets coach taking part the annual Running of the Bulls, it was only a matter of time before video surfaced. Reader John was in Pamplona, and after realizing Ryan was there too, reviewed his footage.
Yes, right about now, 95% of the inhabitants of tiny Pamplona, Spain are getting good and sloshed to prepare for the annual San Fermin "religious" festival where large creatures are loosed upon Hemingway-inspired college kids through a wooden maze. Par-tay.
Some of you are not old enough to remember the Cabbage Patch Riots of 1983, a dark time in our history when lawlessness ruled; where roving gangs of middle-aged women in housecoats would beat you senseless for a children's doll. Above is one of my favorite videos of all time, in which, at about the 40-second mark, a…
I think I'm missing some subtle wordplay here. Why would they call him Mr. Testi...oh you clever Spanish devils you. Mr. Testis is the mascot for the San Fermin Festival.
If you don't count the stuff that goes on in Michael Vick's backyard, then the annual Running of the Bulls in Spain is probably my least favorite sporting event. My favorite sporting event? Well, I think that's been well documented. High five! But I have to admit that every year at this time, I root for the bulls.