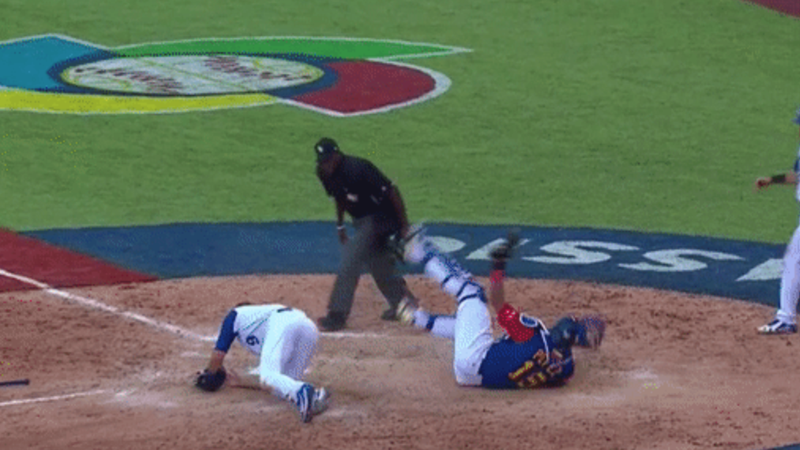 The Royals' backup catcher crushed the Royals' starting catcher in a play at the plate tonight. In the bottom of the ninth of the World Baseball Classic game in Mexico, Drew Butera, playing for Team Italy, collided with Salvador Pérez, guarding home for Team Venezuela, as he tried to score the winning run.

Madison Bumgarner ended the World Series by throwing six straight high fastballs to Salvador Perez, the majority of which were up around Perez's eyeballs. It was the perfect matchup for the series to end on: a guy who works his fastball high in the zone better than any pitcher in the league coming right after a…
Royals catcher Salvador Perez loves fucking with teammate Lorenzo Cain, and now his routine has graduated from Instagram to World Series media huddles.
Royals catcher Salvador Perez has a habit of pestering teammate Lorenzo Cain by taking videos of Cain and posting them to his Instagram account. Occasionally, Cain reacts like Adrian Beltre does when someone touches his head. He really doesn't like when Perez calls him "hermanito."
Salvador Perez was crying as he left the field, hugged by Eric Hosmer. It was a line drive off the bat of the 23-year-old Royals catcher that struck Reds pitcher Aroldis Chapman flush, basically breaking his face.