When I was a child, I spake as a child, I understood as a child, I thought as a child; but when I got to sixth grade, I put away childish things. Such as boring words like cool and fun and good and bad, which in an effort to promote more expressive writing, the Wall Street Journal says are now banned in many…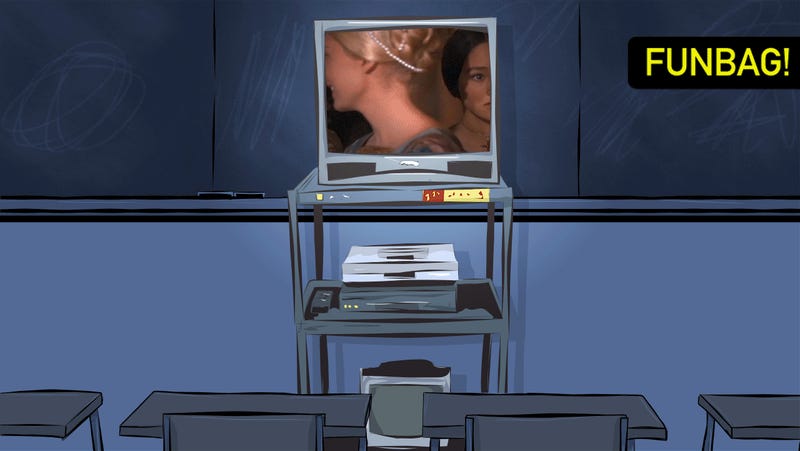 Time for your weekly edition of the Deadspin Funbag. Got something on your mind? Email the Funbag. Today we're covering Secret Service whipping boys, tennis grunts, hookup injuries, and more.
One of the best parts of being a dad in public is the generalized expectation that you are basically a greased-up Kevin James playing banana-cream-pie Jenga with the Queen Mum. Remember those early solo outings with your baby and the generously low bar that you were held to? Doors held open, the fawning looks from the…
While adults everywhere are doing their damndest just to get a few hours away to watch some basketball, kids today get to watch the games in class. Because their teachers let them. Odds are, somewhere in America there is a kid watching the NCAA Tournament in class with a father who just got his testicles snipped so he…
Candidate for most crud-awful season in football this year: the Arizona Wildcats. Started 3-0, including handsome win over Oklahoma State team to get expectations buzzing. The Associated Press ranked the Cats for the first time since 2010. Next came a 56-0 paste job of South Carolina State. Oats were being felt.
Casey's had enough. The bigger kid on the right "has been bullied his whole school life," says the video description, "and this is what happens when he snaps!!" Hence the jackknife powerbomb. The Facebook commenters are universally in his corner, as we all should be, but the school didn't see it that way: Casey was…