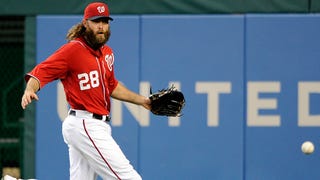 If there's one thing I hope you learn from reading Jalopnik, it's that you shouldn't speed in Virginia because the state treats excessive speed as a serious criminal offense instead of a traffic citation. Washington Nationals player Jayson Werth may soon learn that the hard way.
Reds center fielder Billy Hamilton only played in 13 games with the big club after making his major-league debut in September last year, so you might not be very familiar with what kind of player he is. But Hamilton's a full-time starter this year, and last night he made a play that let us all know exactly what Billy…
Fifty years from now, let's not pretend we didn't see the warning signs. They were there the whole time. Hell, this post is a warning sign. DARPA, the wing of the Department of Defense that makes all the coolest shit everyday people don't usually get to see, has released this video of Cheetah, a four-legged,…
SPEED call-in show WindTunnel with Dave Despain is known for giving strongly-opinionated NASCAR fans a voice, and like many programs it's now featuring tweets from viewers. One such viewer, "Douche McGee," has an issue with the off-the-track drama that's emerged as one of stock car racing's hallmarks—and had such a…
What do you do if you're Michael Schumacher and you have to get your wife, kids and new puppy to the airport by taxi, and you're late? You push the cabbie aside and do the driving yourself, of course. Hey, it's Germany; Formula One veterans are driving all the cabs.